Jonathan Toews of the Chicago Blackhawks has now missed twenty consecutive games due to a concussion. With the playoffs just around the corner, the question of when Toews will return to the lineup has become even more pressing. Coach Joel Quenneville has been cagey about the captain's return, telling fans and reporters that Toews is taking his recovery day-by-day and that "there's no timetable."
We here at Puck Rookie are happy to report that after some intrepid journalism and several shots of Malört, we have gotten our hands on the official document that outlines, day by day, Jonathan Toews' secret recovery plan.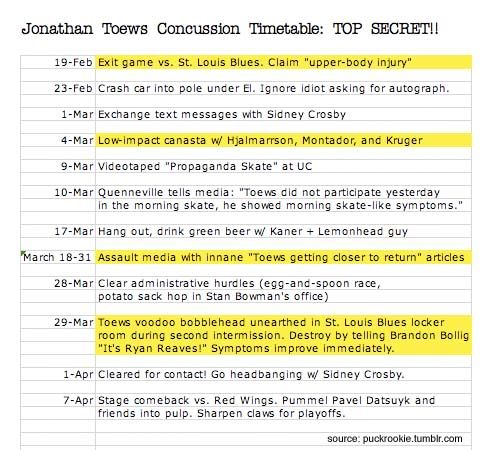 Armed with this information, Blackhawks fans can fearlessly look forward to the playoffs and take comfort in the words of Stan Bowman (speaking last year of Marian Hossa): "He's on schedule, but there's no timetable." And if you missed Sam Fels of Second City Hockey's fantastic post on the Toews-Crosby text messages, it's here.